Basics of computer programming
A simple programming kit that will change
how your child sees the world.
5 out of 5
1000+ reviews
10 000+ followers
Look what you
can do at home!
Over 15+ adventures with monthly delivery. Certified, safe, and fun for the whole family.
Choose from a storybook library of 15 books
Will help your family start coding together.
Code with your hands
Learn functional programming concepts with wooden blocks.
Watch Rover execute your commands
Mochi evolves creativity in children and can be easily prepared for each adventure.
Play STEM games
STEM games offer a delightful way to practice math and coding skills!
Assemble 3D Puzzles
Themed puzzles develop motor skills, hand-eye coordination, and spatial reasoning!
Combine with Lego to double the fun
Mochi's preferred ride on his adventures brings new life back into your child's LEGO.
How it works
Subscribe to Mochi Club
Choose to start with the Mochi Robotics Kit course. Starting from $50 per month.
New adventures every month
Receive a robotics kit in your first month followed by new STEM books teaching everything from letters and numbers to biology and neuroscience. Don't get upset if your kids don't come to dinner because they're too busy programming :)
Learn coding right now
Mochi teaches children the basics of computer programming and computational thinking through a hands-on programming experience, a universe of storybooks and fun characters.
Montessori approved. LEGO Compatible.
No commitment
You can also pause or cancel your subscription in a few clicks from your profile.
Make your kids fall in
love with coding!
But first, we'll send you your own Mochi App Kit:
The Mochi App Kit valued at over $200 — free with our subscription!
What's in the Starter kit:
Mochi bear
Lego-Compatible Rover
Free Mochi Computer
Coding blocks
3 Craft pieces

1 Story Book
1 Story Map
Storyteller
A lot of lego connectors!
Program rover using the Mochi app on your phone or tablet
1
To enter the world of Mochi you start by assembling your Rover.
3
Finally, you choose which adventure you'd like to explore. Read the storybook and then recreate the story or make it up as you go on a full life sized map.
2
Then you learn how to control the Rover by programming it with Mochi's Coding Computer.
What will your child learn?
Functional programming concepts
Brainstorming
Logical deduction
Symbolic Representation
Growth mindset
Fine motor skills
Designed by a leader in
the field of screen-free
coding with early learners
After many years of experience in a variety of educational settings. Judy Quintero used her knowledge to teach an after-school enrichment class that encouraged children ages 4-7 to explore the creative world of coding and computational thinking. She accomplished this by using screen-free coding robots, stories and games. In 2020, Covid-19 restrictions kept her from sharing her passion for tangible coding lessons in the classroom, so we have collaborated to bring many of her in-class activities to the safety and comfort of your home. Now, children can delve into fun subjects in the context of computational thinking, on a monthly basis!
Made from only the best and sustainably sourced materials
All the material in our boxes can be recycled, is friendly for the environment, and safe for your child!
Only the best, sustainable source materials

All the materials in our boxes can be recycled, friendly for the environment, and safe for your child.
Recommended by parents
1000+ five-star reviews from happy customers.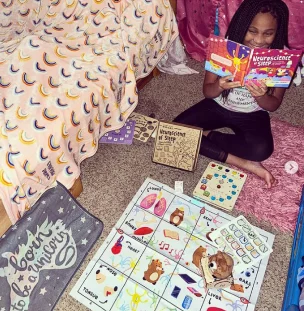 🐻 Candice
"I love that @learnwithmochi theres no addictive screen, and they're learning while playing; and she's learning to code.. with thinking & pattern matching…"
@girlbossmommie_x3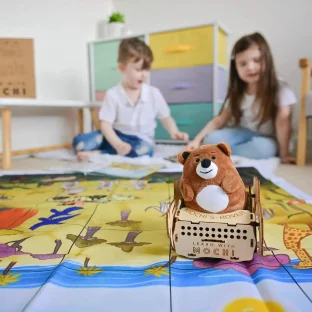 🐻 Annmarie
"We loved the @learnwithmochi planet story. It was just challenging enough to make it interesting, but yet so simple to put together."
@motherof_spartans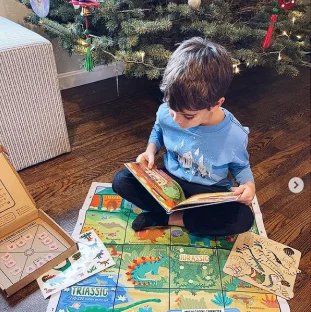 🐻 Cash
"Cash & I had a great time this afternoon with his first subscription box from @learnwithmochi! We learned how to code using a child friendly & screen free approach..."
@hardknocksma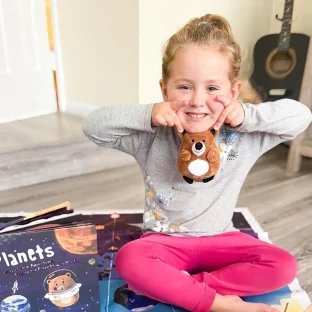 🐻 Linda
"We are beyond amazed with the toy that @learnwithmochi sent for the kids. Thank you so so much! The kids are extremely happy! 👧🏼👶🏻 It was super easy to put it together and the quality is mind blowing!!!!"
@patty_streff_fitness
Why Mochi Club?
1
Proven to improve academic performance
2
Certified safe and tested in labs
3
Expertly built by scientists and parents
4
Education disguised as entertainment
Recognized and awarded by: